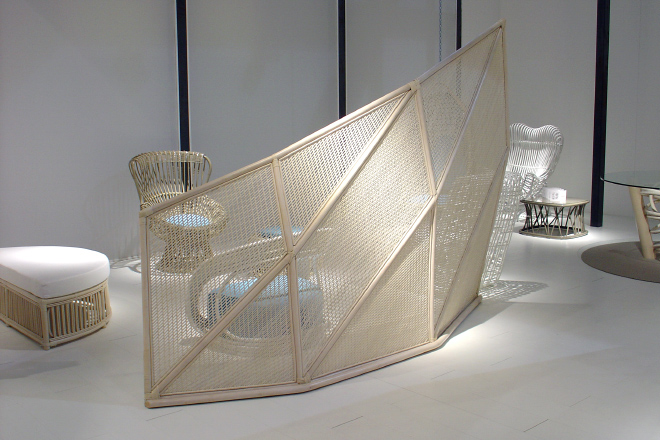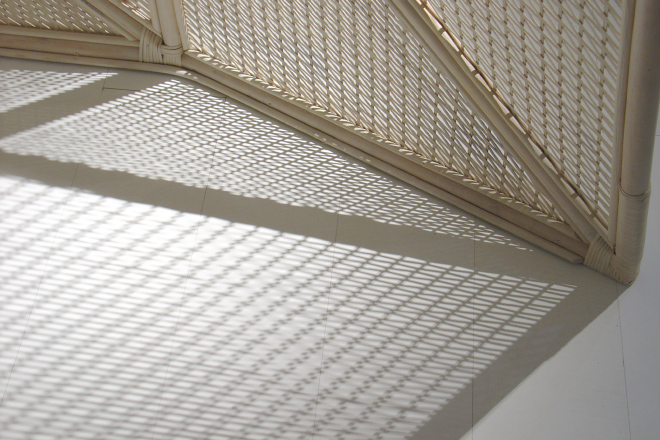 Paravento ALA per Bonacina 1889. Forme geometriche semplici, accostate, definiscono una superficie concava sfaccettata. Il paravento ALA si sviluppa seguendo una curvatura lungo il piano d'appoggio e una torsione lungo le linee diagonali. La forma richiama le forme della natura. L'oggetto è compatto, solido, e allo stesso tempo leggero e trasparente: tre tipi di tessitura individuano aree con diversi effetti di trasparenza. La forma concava e lo sviluppo orizzontale suggeriscono la creazione di un ambiente racchiuso, protetto, definendo nello spazio un "interno" e un "esterno"; le tessiture più o meno fitte suddividono lo spazio in modo dinamico, filtrano la percezione dell'ambiente senza nasconderlo completamente alla vista.
Paravento realizzato a mano in Manau, Batang e Midollino, prodotto nelle finiture grezzo, verniciato naturale, tinto anilina o laccato. /// ALA screen for Bonacina 1889. Simple geometrical shapes fitting together defines a faceted concave surface. The ALA screen develops following a curved line along the supporting plane and a torsion along the diagonal lines. The shape recalls that of nature. The object is compact, solid, and at the same time light and transparent: three kinds of texture create areas with different transparency effects. The concave surface and its horizontal growth suggest the creation of an intimate, protected habitat, offering an "inside" and an "outside" space; the more or less compact textures divide the living-space in a dynamic way, they filter the perception of the atmosphere without blocking it out totally.
Hand made screen made of Manau, Batang and Rattan core, sold in various finishings: raw, natural painted, aniline painted.